For 11 years, Cliff Benjamin and Erin Kermanikian have co-owned Western Project in Culver City. Together they exhibit work that's consistently challenging and boundary-breaking, representing artists like Tom of Finland (before he was MOCA-acceptable), Bob Flanagan and Sheree Rose (whose work is the best kind of shocking), and Ron Athey (who Benjamin accurately describes as "Promethean"). Kermanikian's unflappable youthful insight compliments Benjamin's experience, and their dedication to the art and artists they love is palpable every time they talk shop.
Benjamin isn't like most gallery owners. His arms are covered in tattoos and his attire is often more leather bar than Moet VIP lounge. He's as queer as can be, a walking assault on normalcy, and that's just part of what makes him so compelling. He's also been an artist, professor, art dealer, gallery director and gallery owner. For nearly half a century he's been part of LA's cultural identity, making him a kind of griot, always ready with a story about something people forgot, don't know, or refuse to talk about. That's why I'm waiting for him in a Silver Lake cafe to ask for a story or two.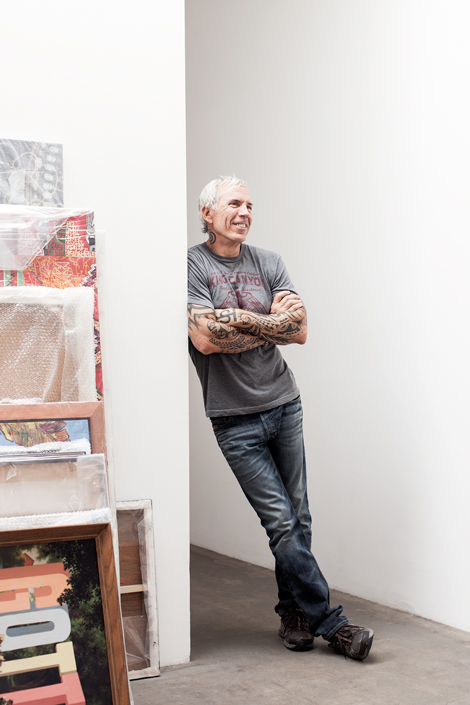 Cliff Benjamin at gallery with artwork, photo by Joe Schmelzer.
Artillery: Tell me how LA has changed in your lifetime and what do you think about the art world today?

Cliff Benjamin: I never think of this as a competitive business. I didn't when I was an artist, and I don't now as a gallerist. Most gallery owners don't come from a teaching or a working artist background. I taught off-and-on for six or seven years, and I always liked teaching. I think teaching is more about giving people permission. So I think my background lets me go into a studio, and if an artist is stuck, I know. I get it, and we can talk. I also like that I get to help artists be self-sufficient. I personally know how hard it is; being an artist is the hardest job in the world.
What do you think has been the biggest change in the LA art world?
The biggest change is the illusion there's a big collector base here. All these galleries move here, and they think they're going to do this and that. But they can't make it. Unless you're from here, you just don't get it.
Why is that?

LA is so much about lifestyle and unless you understand that endemically, you won't understand this climate, this culture. If Pace Gallery couldn't make it—well… .
What do you think people fail to remember about LA's art world? Who gets left out?
LA has zero memory. So, for instance, the Getty's PST show had ad nauseam talk about the Ferus Gallery. You would think there would have been an equally huge chapter on Nick Wilder. He was barely mentioned! He was enormously influential. He showed Nauman, Twombly, Alberto Burri, John McLaughlin, David Hockney and so many more. And Nick had these famous openings and crazy lifestyle.
Carole Caroompas, Uncle Lenny: Right as Wrong/Wrong as Right: Straight Men, 2010, courtesy Western Project.
So why do you think he was so absent from PST?

Because it just didn't have the same buzz as Ferus. Ferus was a press machine.
In terms of artists, who do you think deserves more historical attention?

I will say that PST did a great service to the artists from the late '60s and '70s who haven't been part of the general dialog. But I'm going to be biased. It infuriates me that Carole Caroompas is not in the same dialog as Mike Kelley. Her work is just as crusty, incisive, beautiful and crazy as it ever was. She's never flinched. She's taught at Otis for almost 30 years now, and she's been as influential a teacher as John Baldessari. But because she's a woman—there have been so many women and people of color who haven't been put in that hopper. It's tragic.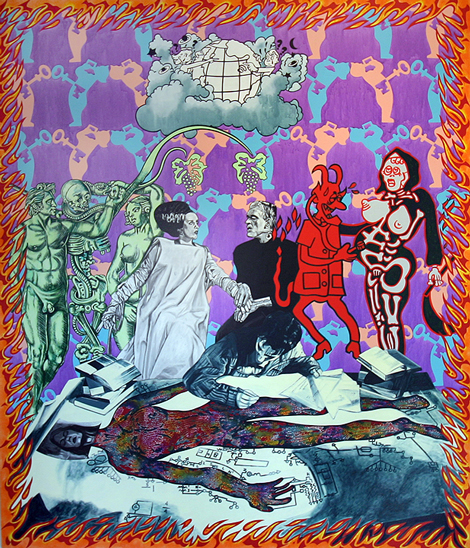 Carole Caroompas, Before and After Frankenstein: The Woman Who Knew Too Much: The Couple Who Had No Umbilicus, 1994, Private Collection, Los Angeles, California, courtesy Western Project.
In so many ways, there's so little honesty and kindness in the art world. That's what we need to cultivate. To do otherwise just seems like too much work to me. I mean, if you're interested in power then maybe, but not me.
That drive for power, for being cool, is just a cover-up, a hungry ego. The whole notion of being cool is a ticking time bomb. Being cool is the booby prize. It really is.
©2023 Tucker Neel. All rights reserved.